Proton therapy information for medical professionals.
For many patients with localized, solid tumors, proton therapy is an optimal choice. This non-invasive procedure uses a precise beam of ionized hydrogen protons to target cancerous cells. Protons travel directly to the tumor site and stop, sparing most healthy tissues and organs. So your patients should experience far fewer side-effects than with conventional radiation.
Proton therapy is ideal for localized, solid tumors near critical organs in the body. It can treat a wide variety of cancers including but not limited to:
Find out if proton therapy is right for your patients.
Is proton therapy right for your patient?
Back
Next
Please make a selection to continue.
All responses are private and will not be shared with a 3rd party.
Most-Advanced Technology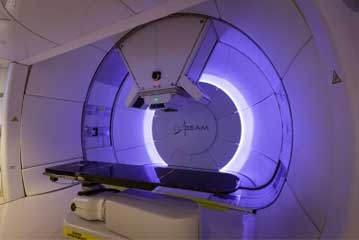 MPTC is one of only a few proton therapy facilities in the world to feature pencil-beam scanning, a technology that paints radiation onto the tumor like a 3-D printer for pinpoint accuracy. Additionally, MPTC is the only center that offers hyperthermia therapy in combination with proton therapy.
Our Expert Team
MPTC has treated over 3,000 patients with a variety of cancers. Our physicians are the most experienced proton therapy specialists in the region, with a combined 40+ years of experience. MPTC has been named #1 in the United States for accruals to NRG Trials. Our patients have access to cutting-edge clinical trials that are led by renowned radiation oncologists that specialize in their specific disease site.
Better Access to Care
MPTC has established a cost-neutral rate for protons compared to photons. Because of this affordable cost structure, MPTC currently has an insurance approval rate of 90%. Additionally, MPTC provides complimentary valet parking and concierge services to help with transportation and lodging for our out-of-town patients.