Most-Advanced Technology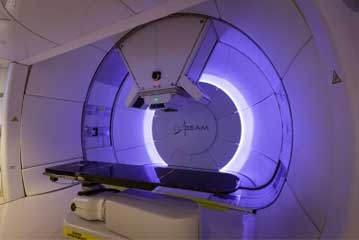 MPTC is one of only a few proton therapy facilities in the world to feature pencil-beam scanning, a technology that paints radiation onto the tumor like a 3-D printer for pinpoint accuracy. Additionally, MPTC is the only center that offers hyperthermia therapy in combination with proton therapy.
Our Expert Team
MPTC has treated over 3,000 patients with a variety of cancers. Our physicians are the most experienced proton therapy specialists in the region, with a combined 40+ years of experience. MPTC has been named #1 in the United States for accruals to NRG Trials. Our patients have access to cutting-edge clinical trials that are led by renowned radiation oncologists that specialize in their specific disease site.
Better Access to Care
MPTC has established a cost-neutral rate for protons compared to photons. Because of this affordable cost structure, MPTC currently has an insurance approval rate of 90%. Additionally, MPTC provides complimentary valet parking and concierge services to help with transportation and lodging for our out-of-town patients.